Finding the right bedside lamp can be like finding the Holy Grail – a lifelong quest, the object of which is always just out of reach. Of course if your head hits the pillow and you immediately become enveloped in delicious, healing sleep there is no problem. But if, like me, getting to sleep involves a couple of hours of reading, note-taking, sketching and generally enjoying the fact that you're in bed, the bedside light problem demands attention, especially if your husband is of the hit-the-pillow-and-dead-to-the-world variety. Of course, my long suffering husband declares that it doesn't matter if the light is on half the night, a statement somewhat negated by his muttering something about the best hours of sleep coming before midnight. So, compromise and lateral thinking has evolved the following solutions. First, I very rarely get to bed much before 11.30, so he can have some uninterrupted sleep before the witching hour. 
Secondly, I considered the lampshade. I am very fond of my Isis Pottery lamp (made in Oxford when I bought it, though now the pottery has moved to just outside the city ) and to this I had added a linen shade from Woolworths which for £5 was fantastic value and quality – and is now practically an antique as Woollies no longer exists. But the bottom of this coolie shade  is so wide that it allows rather a lot of bright white light to leak out from underneath, hit the white pages of books and be reflected into your eyes, all of which makes eyes ache but no nearer to sleep. The scalloped white linen slip cover seen below was my first attempt to solve the problem. The light filtered through linen was much gentler on the eyes. Success.
But the light was undeniably still brighter than it needed to be. So, the quest was still on. For a while I swathed the lampshade with a dark chiffon scarf, taking care not to cover the hole at the top (I once knew someone who set the room on a fire by doing that). But this was a stop gap and unsatisfactory solution. I'd have to fiddle around with pins before getting into bed, the resulting swath usually partially unwound itself minutes later and anyway it all looked very inelegant. Indeed, it was even worse a mess by morning and I couldn't resist unwinding the lampshade turban and folding the scarf up – wasting valuable time when I should have been getting out of the house promptly to catch my bus. A darker slip shade was obviously needed and salvation came in the form of black, block-printed Indian cotton from  The Cloth House. Now light from the lamp has been reined in and dimmed the to a non-intrusive level and – in the morning – I can whip the black slip cover off and replace it with the white linen in just a few seconds. Both bedside lamps now present white linen symmetry. (And, yes, I am already using low energy lightbulbs.)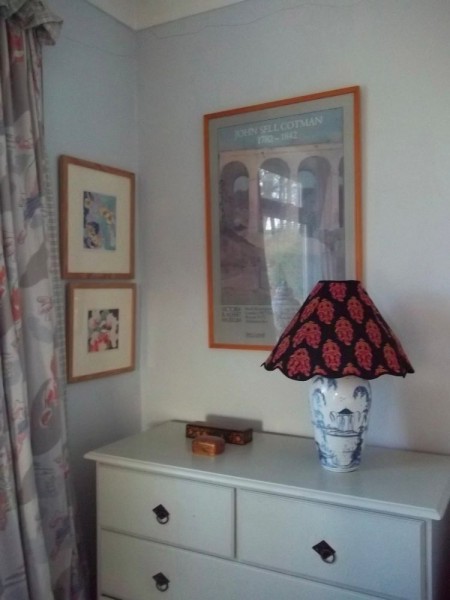 The  real joy about a slip cover, however, is that you can throw your breakfast coffee all over it, smear it with porridge, butter, face cream, Olbas oil, felt tip pen, etc., and then just toss it in the washing machine, iron it if you wish, and put it back on again the same day. (Of course it you threw too much coffee you'd soak the shade itself underneath and then you might have to go and and replace that, which would be a problem with the antique Woolworths version…) If you like change, you could go further and make winter or summer covers, have bright covers for when you need cheering up  or ones that coordinate with your bedlinen – well perhaps that's going a bit too far. Certainly, once you've made a template, a slip cover can be made in couple of hours. I have now got my eye on some dark grey Ikat (with a slub of deep pink on  a narrow band of off white) which I have pre-shrunk before daughter no.1 takes it back for her own use. Umm.
The construction of these shades is simplicity itself. To make a template, take a piece of cloth, or a sheet of tissue paper (newspaper can be used if the ink doesn't come off on your hands), lay it over the lamp and cut out a shape to go round a quarter of the shade. Add seam allowances of a centimetre to the long sides and make sure the length is sufficient (you can always cut off excess afterwards, so err on the generous side). Cut 4 of these pieces, tack them together. Pop it on the lampshade base and adjust as necessary. Join the long seams, cut off excess seam allowance and neaten the seams by zigzag machine stitch. Bind the top circle with bias binding, either home made or bought, and finish off the bottom as you wish. (The white linen is faced with the same fabric and its scalloped edge is zigzagged on the sewing machine; the top edge is covered with bias binding. The black slip cover has bias binding top and bottom. I have since made more of these for lamps all over the house but more of these later…