Let me get a couple of things clear straight away. This quote appears often on websites but nowhere can I find that David Attenborough actually uttered or wrote the words. It is, however, a sentiment I feel sure that he would endorse – and he might even wish he had said it. As I haven't yet mounted the embroidery I can remove his name should I find out this is just a nice phrase to which his name has been gratuitously attached. It is, nevertheless, such a striking sentiment that I'd be very happy to add the name of real author, however deeply obscure or unknown they may be. It certainly packs a real emotional punch and draws attention to the elephant in tragedy's waiting room.
Secondly this is an Indian elephant. The following characteristic attributes distinguish it from the African: smaller overall size; smaller ears, both absolutely and relative to body size; the highest part of the body is the bump on the top of the head; the tip of the trunk has one lip-like projection. (Ha ha, marks off to me, my elephant has  2 'lips'). Because it is an Indian elephant, I had a fancy to decorate it with the sort of flowers often seen on Indian chintz fabrics, cramming as many as possible into a swirling composition. It's enjoyable to map out the bare bones of the design and then just let it take you with it. The funny squiggly thing above the elephant's eye reminds me of a mob cap or a handkerchief soused with cooling water and thrown over during a nice day at the seaside. I rather like the image of a gambolling elephant having a day out at the seaside. The form of a running elephant came from an elephant in Howard Hodgkin's Collection (see below and my post of  4 August 2012). The cross stitch writing was a disaster as I realise I can't see well enough to count the threads on the fairly fine linen. I gave up counting and just did it by guesswork – hence a certain wonkiness.
My children, probably like almost all children were much taken with elephants. With a zoologist father, a London childhood and a season ticket to London  Zoo, they were more familiar with exotic animals than they were with native creatures. This was somewhat embarrassingly illustrated when we visited farming cousins who were hand rearing an orphaned lamb. "Oh look," enthused the child, who shall remain unnamed, arms embracing the warmth of a soft, hairy neck "a baby camel!"… Well, it might have been a baby elephant on show the previous week – that would have been embarrassing.
This elephant was requested by daughter no 1 who may seem to be the recipient of rather a lot of my handwork. But this is because she and her husband have a large house with many walls and are very generous in sharing the use of those walls, and floors and beds and food and hard-earned money with the rest of the family, one sibling of which lives abroad and two more of which are students – and that's just our side of the family. I shall employ my handiwork for the others as and when they have their own walls, floors, sofas, beds, etc to be decorated – they will not be forgotten.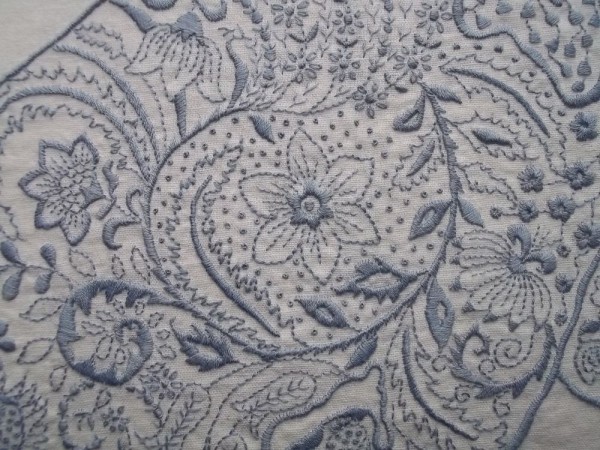 But back to serious matters. And although what I talk about below is about African elephants, the situation is not very different for Indian elephants.
In December, in the Observer  (16 December 2012) Jane Goodall added her voice to David Attenborough's  to remind the world how an upswing in the trade for ivory had brought ever nearer the extinction of the elephant.  She points out that Tanzania has lost half of its elephant population in the last 3 years and compares the decline in the elephant population to that of her own focus of research, the primates and their decline over the last 40 years. Conservationists point to the selling of ivory by rebel groups to fund buying armaments with which to threaten governments. Ugandan planes have been seen flying over the Democratic Republic of the Congo and shooting elephants from the air. It is all such a complex mess.
And we have been here before. 20 years ago Richard Leakey, palaeoanthropologist, the man who excavated 'Turkana boy' (believed to be the first skeleton of homo erectus) and something of a hero of mine, took on the job of protecting elephants and over the next 2 decades had real success. He fought poachers with high-tech, using rangers in helicopters who were equipped with night vision goggles and automatic weapons and the most extreme powers ('shoot to kill', though he later said this only meant shoot if fired on first – no poacher nor ranger was killed). Leakey did not receive whole-hearted support and he himself was often targeted, was regularly arrested and censored (according to whether President Arap Moi held him in favour or not) and lost both legs in a plane crash which many think was sabotage. Somehow he kept going, is still alive, and is still working on new ways to conserve wildlife, the latest idea involves the use of scientists and conservation workers using blogs to keep the world informed.
In Kenya, before 1989 (the year of the international ban on ivory trading) there were 16,000 elephants and these increased to 32,000 by 2009. According to Leakey, the trade took off again in late 2008, when southern African states were sanctioned to hold a one-off auction of stock piles of  ivory to China and Japan. With the availability of  legal ivory, a trade that had shrivelled became revitalised; illegal ivory soon found outlets to fill this new demand. In simple terms this auction meant there was no longer a ban on the selling of ivory and  China, which has brought money, influence  and a hunger for ivory to Africa, is keen to see this continue. In 2009, the IUCN (International Union for the Conservation of Nature – no, I've never heard of them either) passed 2 motions, neither of which was a full ban on the trade. In the National Geogrpahic News (19 December 2012) Leakey describes these motions as pathetic , "We're sitting about piddling while Rome burns" and he calls for a motion to say all member states should never again trade in ivory. It is clear that the elephant will not survive unless the ban on ivory trading is reinstated. How few of us realised the ban had ever been lifted? is my own weak retort.