With the end of July came our annual Art and Craft Festival – a showcase of talent of local origin or local nurture. We can't remember whether it is the fourth or the fifth time we've held this event but it is now firmly on the local radar and there were more exhibitors and visitors than before. Each year's exhibition has its own personality and this year we were especially glad to have paintings by those who attend Denny Webb's  art classes in the village. Denny specialises in teaching various water colour techniques and all her pupils were overflowing in their praise for her teaching methods and her inspirational ideas. The group's paintings were outstanding for their use of colour and strength of line.  Vibrant shades of pinks and reds bloomed as brilliantly on paper as they did in the porch where a lovely arrangement of summer flowers greeted the visitors.
The following photos are just some of things on display – not every photograph comes out as well as you hope – even with the aid of digital cameras. There were things I forgot to go back to photograph again and those that I thought I'd taken and then couldn't find on camera. So, apologies to anyone whose favourite piece doesn't appear .
A second innovation for this year's festival was that we indulged in a grand opening, going the full hog with jugs of Pimms and home made savoury bits and pieces. One of our church wardens had been very organised and arranged for bottles of wine and glasses from Waitrose and I must thank him for his flexibility and good humour when I unexpectedly appeared with 3 litres of undiluted Pimms. The weather and general beatific nature of the day caused me to suddenly notice one large and one small bottle of Pimms which had been sitting in the corner of the vicarage kitchen for some time now. Brought by my children for some celebration for which they probably had also brought champagne,  I can't think why we had never used it but, once caught sight of, I instantly knew that this was the evening it had been waiting for. No large glass jugs to hand, I hauled a trio of my biggest Bridgewater jugs down from the top of the kitchen cupboards, scoured them thoroughly and filled them with the summeryest of summer tipples, topped up with lemonade, floating curls of cucumber and small plump strawberries (forgetting completely about the mint growing in the zinc bath outside – I knew something leafy was missing. Hey ho !). I thought three 6 pint jugs would soon be drained but the Pimms spun out nicely, with some people preferring wine and others soft drinks. Another success to serendipity.
To temper the potency of summer drinks in the church, I spent the day cooking little pastry tarts (goats' cheese and onion) and quiches (egg, bacon and sundried tomatoes), pesto pinwheels (both red and green) and puff pastry circles topped with cheesy bits,olives, etc. Two kind neighbours, Isobel and Joyce, appeared to help in the afternoon and were landed with the most time consuming and messy of jobs. Isobel was made responsible for Delia's baby tomato/mozzarella and pesto bites which take about 2 hours to make 40, are utterly delicious and consumed in seconds. This herculean task Isobel performed with good humour, dignity, not a hint of the long sufferingness she must surely have felt, and with the sole reward of an empty plate. Joyce was put in charge of  'topping' and became adept at placing olives, tomatoes and parmesan, etc.  on puff pastry – it really was not her fault some of the puff pastry grew assymmetrically in the oven and tossed the olive/tomato off on to the baking sheet. (Delia's did not do this. Usually Delia warns you if there is some likelihood of structural failure. The fault must have resided in the puff pastry – purchased – enough said).
Once again an evening event showed the church as we rarely see it,  bathed in a golden slanting light from the west and looking its loveliest.  Inside, the temporary new lighting installed by David Kelley illuminated the paintings without washing them out and in a corner Andrew Darke's televisual show of a year of photographs in Ipsden whirred its gentle way through a mesmerising sequence of pictures.
Village events can never be finely scheduled and as usual late entries appeared  – this year, of some magnitude and in some volume, so there were hasty rearrangements of the display spaces. The vicar betrayed only the slightest of nervous ticks ( so great is his enthusiasm for these events) as he bustled about rejigging things here and there. We were especially pleased that among the last minute exhibits were the collection of model farm trucks made by Herbie Small who had been such an important village figure. His daughter, Shirley, the village shop keeper and postmistress, had had a trying week during which a visit to her loft could not have seemed a priority. For those who hadn't seen them before they were the subject of much nostalgia and a great talking point.
While Herbie Small's handwork was being positioned, a car with what looked like a packaged giant christmas pudding on top passed by. "Surely that's not coming too?" wits chortled, without the least expectation that it would. Ten minutes later and down the path rolled a spherical ball of a chair on office casters and emblazoned with small panels of every aluminium drink can you have ever encountered. Positioned in place of the lectern this electronically supplied techno bubble was a source of great fun for children and the young at heart. Some felt that on Sunday the vicar should deliver his sermon casually lounging in this marvellous creation as he consulted his iPad. The vicar declined the offer feeling perhaps that you could take informality too far. No further exhibits appeared and as by this time there were over  60 visitors  milling around, the vicar introduced Sarah Whittaker of Art at Goring who formally opened the exhibition.
 The third innovation was the addition of live music. Gillian Kelley brought her classical guitar and, sitting up in the choir, performed a well chosen programme of the most lovely music. Gillian performed long stints in the church throughout the 3 days of the exhibition and was a great success. There can be few things that please the senses more than sitting in a cool church on a hot summer's day, needle in hand and sewing idle on the lap, lovely things to look at, engaging in gentle chat while a ribbon of the sweetest of Dowland's cadences envelopes you with the sense that all is very well with the world. And with that note I shall end. it is now a week since the exhibition finished and I should really post this now before it becomes a distant memory.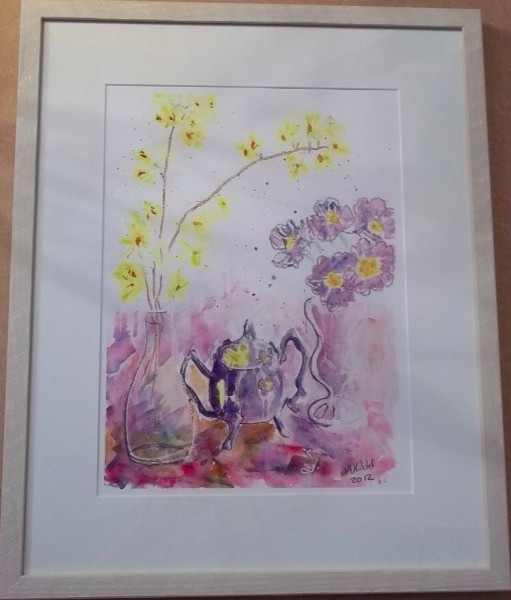 Post Script 8 August
Also on display in the exhibition was the following book about the Chilterns. Both the text and splendid photographs were by Jon Scourse whose personal look at this unique area of England enables the reader to see the underlying  geomorphology as it manifests itself from Goring-on-Thames in Berkshire, through Oxfordshire, Buckinghamshire, Hertfordshire and  Bedfordshire (just) – counties not usually seen to have much in common. Sometimes a poor relation to an area like the Cotswolds, the Chilterns are here shown in all their enigmatic and unique glory.