I have so many projects in my head at the moment that  I thought I'd better blog about something I did a long time ago to cool my head. I've always loved friezes and have a particular fondness for those with curling acanthus leaves which seem to have been winding their lazy way round everything from temples to dining rooms since classical times. (Obviously they have not been in fashion for all that time, for beyond the odd sinuous grapevine, I can think of no medieval castle, monastery or manor house that found such complicated convoluted curves an irresistible form of decoration.)
The first photograph above shows a magazine cutting of a design by Zuber and Cie (established in France in a post revolutionary 1797 and still going strong). They specialise in hand blocked wallpapers and fabrics that would have been well beyond my purse. But there is something so gritty and impressive about hand block printed designs that I couldn't resist having a a go at reproducing the design as a stencil.  I began by drawing the design as well as I could on graph paper and then scaling it up on to paper of larger squares. There are bits of the design that aren't quite right but I felt happy it had a certain something which was only heightened by the irregularity of a sponged stencil. As I only ever used it for myself, I hope they won't be coming after me for violations of copyright.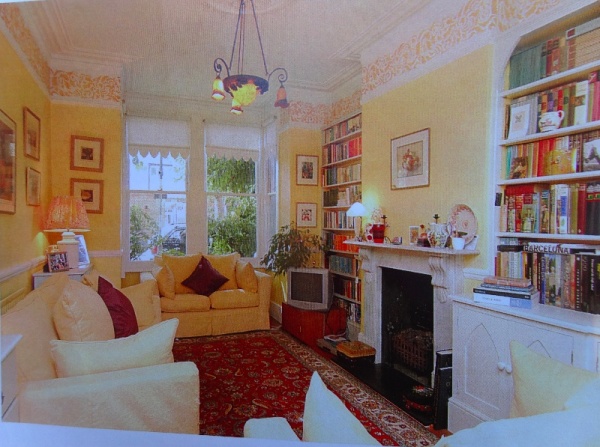 We sold the house almost 10 years ago, so I feel sure by now it will have been whitewashed over and no evidence remains. All that I have left to remind me are a few rather poor photographs of an estate agent's brochures. Sic transit gloria mundi.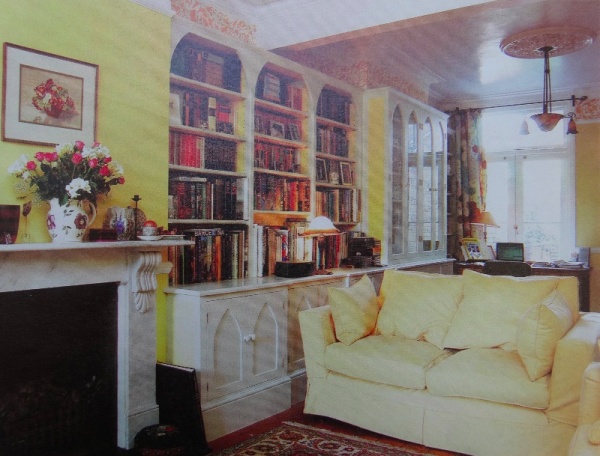 Devotees of Aaron Sorkin's The West Wing must remember the stunning scenic wallpaper in the Mural Room of the ersatz White House. This room was a just a stab at reproducing the glories of the Diplomatic Reception Room which achieved its unparalleled beauty as late as 1961 when the room was refurbished in the style of the Federal Period (1790-1820).  The Zuber wallpaper (dating from 1839 and known as Vue de l'Amérique du Nord)  came from a French period house in Maryland on the point of its demolition (to make way for a grocery store). In the nick of time, some prescient and unnamed individual had the wallpaper removed from the house and sold to the White House where Jackie Kennedy, brilliantly inspired (and brilliantly advised by antiques expert Henry Francis du Pont) oversaw its rehanging. Printed in France from multiple woodblocks the 32 (often fanciful scenes) include Boston Harbour, the Natural Bridge in Virginia, West Point, New York, Niagara Falls, and New York Harbour.  The circling panorama on the elliptical walls is seen to great advantage because of the room's lack of windows, a fact which explains why for many years until the 1940s it had no official function apart from housing the White House's main boiler!