Four days after an extraordinary General Election which produced a surprise, if tiny, Conservative majority, normality is being restored remarkably quickly in the household of 2 political journalists where I still find myself. All expectation of inter-party negotiation behind closed doors has come to nothing and this sudden rush of single party government has produced a brief interlude of exhalation … and consequent realisation of exhaustion which often follows in rapid succession – and that's just me! Thank you Britain for being so decisive. One small boy will now be taken to London Zoo today by his parents who will give him lots of attention (though undoubtedly still attached to their mobile phones).
The fabric shown above was one of the Bloomsbury range produced by Laura Ashley in the late 1980s, although this particular design never appeared in the catalogues (and I have consulted all my early Laura Ashley catalogues from this time). Why it never appeared in ordinary stock I don't know but in about 1988, I came upon a few bolts of the fabric in the shop with a sale price of £1.99  per metre  – surprisingly cheap even then when LA cotton was on average about £8 per metre. Without hesitation I immediately bought about 40 m which I made into generously full bedroom curtains for my then London home. Cut down from what was needed for  the 9 foot plus Victorian ceilings, they now work just as well in the vicarage. Not usually keen on patterned curtains which I find date quickly, I loved them … and love them still.
The original fabric of 1932 was designed by Duncan Grant for Alan Walton Textiles and was screen printed on either satin or cotton & rayon. Having a thoroughly late C20th sensibility I love natural fabrics and shudder at the thought of the now much reviled but then new and experimental rayon, nylon, etc. It's also noticeable that Laura Ashley had subtly fine-tuned the colours for the current version – for an  original colour way see V&A blog here. What is not in doubt, however, is that the design was highly regarded at the time for it  won the Medal of Merit at the Paris International Exhibition of 1937.
The Bloomsbury Group were particularly fond of Greek Myths and the Apollo and Daphne story appears often in both their art and writings. The main source is Ovid's Metamorphoses. In this telling of the story, Apollo has scorned Eros for his unseemly use of his bow and arrow and, infuriated, Eros sets about revenge, shooting the innocent nymph Daphne with a leaden arrow to arouse hatred and piercing Apollo through the heart with a golden arrow to induce the deepest love.
Daphne is a seriously bad choice as an inamorata for she has already turned away many potential lovers and begged her father, Peneus (a river god) to allow her to remain unmarried. She prefers outdoor pursuits and loves nothing as much as wandering through her wooded homeland revelling in the wonders of the natural world. Now Daphne's sylvan idyll is seriously under threat from the love sick Apollo who continually pursues her through the woods, dogging her footsteps but never quite catching up with so fleet-footed a nymph. Impatient Eros, viewing his bagatelle from above, interferes to effect Daphne's capture. In utter desperation, she calls to her father to help free her, begging for drastic intervention – being swallowed up by the earth or a change of form, anything to avoid being taken by Apollo.
Moved, Peneus initiates her transformation. Her feet falter, slow down and become rooted in the earth. Apollo, within reach of  the still visibly human form, embraces the object of his desire but he finds his hands devoid of the expected voluptuous flesh and full instead of delicate leafy branches. Apollo, still awash with uncontrollable love and desire, but now with a beloved tree and not a nymph, vows to tend the tree forever and he grants it special significance. From now on Daphne will be a tree symbolising victory and immortality, her everlastingly green leaves rewarding triumph and success. The twist in the tale is of course that in both Apollo's and Daphne's case their own successes are not without the bitter tang of  defeat.
The Apollo and Daphne story had 2 powerful echoes in society  of  the 1930s. Women had only received full suffrage in the Representation of the People's Act of 1928 and they were beginning to push for a more equal footing in other areas. There was also a growing appreciation of the natural environment after the carnage of WW1 and the economic hardships of the 1920s. The Bloomsbury Group loved myths, fables and fantasies and indeed they could be said to live an idyllic rural fantasy – a fabulous bubble which was not always what it seemed. (Yes to increasing women's independence, yes to pacifism but yes too to servants* – where would they have been without Grace Higgens? – and yes please too to unearned income to pay the rent.)
*For more about the Bloomsbury servants, read Alison Light's Mrs Woolf and the Servants which will make you feel much better about yourself and your inability to find time for Bloomsbury style creativity as you plan family meals, load the washing machine and sigh at the pile of ironing.)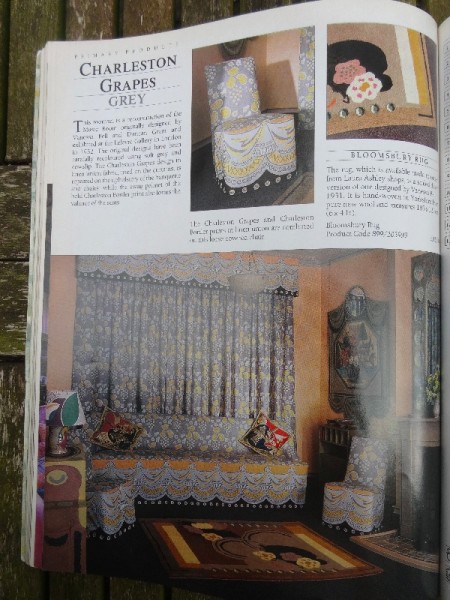 Two Bloomsbury short stories have elements of the Apollo and Daphne myth. E.M.Forster: The Other Kingdom and David Garnett: Lady into Fox. In both stories the nature-loving heroine escapes her male tormenter as well as the disturbing aspects of modern society by returning fully to nature as a tree in the first story and as a vixen in the second. I think there may also be whiffs of similar metamorphoses later in the century in the novels of Iris Murdoch but I'm still thinking about this. Meanwhile I look at my curtains and just enjoy the design and colour and give very little thought to anything of deeper significance – oh dear superficial once again.