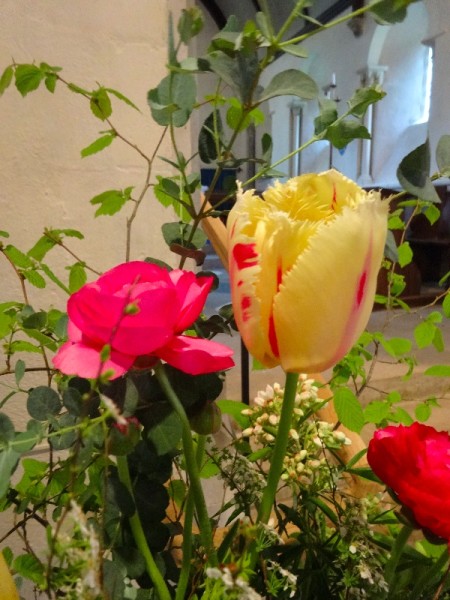 As regular readers will guess, the church biscuit has not been high on my list of priorities in recent weeks, although they have made more of an appearance than apparent from the blog. Here are a couple of biscuits I did manage to make for coffee in church before the election.
I surprised myself by starting these chocolate shortbread biscuits one Saturday afternoon with plenty of time to spare. I was then able to give them the full hour in the fridge as the recipe required. Well, in fact, I got rather lazy and left them in overnight, rashly thinking I'd get up that bit earlier on the Sunday and bake them just before church.
This was not a very good idea. I got up in good time (several gold stars for this) but then discovered that my refrigerated chocolate logs were too hard to get a knife into. (I now know that 10 secs – or v. slightly more – in the microwave on half power would have softened them sufficiently to go under the knife. But I didn't know this then.) Moderate panic ensued as there wasn't even a packet of custard creams or non chocolate digestives around, so I grabbed reliable Mary Berry and made walnut shortbreads instead. They turned out to be very good and the walnuts gave them a great flavour. (What about topped with chocolate or made with pecans instead…? Plenty of possible variations here.)
Fortunately on the following Tuesday we were putting on a tea for half a church of theology students from nearby Cuddesdon College, so my chocolate shortcakes were not wasted (shown below with possibly the best chocolate cake previously blogged about here).
Walnut Shortbreads
 100 g wholemeal flour flour (finely ground better)
75 g plain flour
75 g light muscovado sugar
100 g butter
50 g walnuts, roughly chopped
icing sugar for sprinkling
Recipe from Mary Berry's Ultimate Cake Book (BBC Books, 1994)
Pre-heat oven to 160 degrees C/150 degrees for a fan oven/ 325 degrees F/ Gas Mark 3.
Lightly grease and line a square baking tin 8″/20 cm square.
Measure the flour and sugar into a large bowl and rub in the butter with fingertips. Mix in the walnuts. Knead gently to bring together to form a dough. (Alternatively process the ingredients in a food processor.)
Roll out the dough on a lightly floured work surface until about the size of the tin. Put this in the tin, pressing it gently to fit. (Lots of pushing went on here.)
Bake in the pre-heated oven for about 15-20 minutes or until pale golden. It will still be soft when removed from the oven and you can easily score lines in it which will make cutting easier. Holding the baking paper, lift the shortbread out of the tin and allow to cool. When cool, break into pieces along the scored lines. Dredge with icing sugar.
Make 16
Double Chocolate Shortbreads
175g butter, softened
85g golden caster sugar
200g 7 oz plain flour
2tbsp cocoa powder
100g chocolate chips
Heat oven to 180 degrees C/160 degrees fan/Gas Mark 4.
Line 2-3 baking sheets with baking paper.
Mix butter and sugar together with a wooden spoon. Stir in the flour and cocoa, followed by the chocolate chips – you'll probably need to mix it together with your hands at this stage.
Halve the dough and roll each piece into a log about 5cm thick. Wrap these in cling film and chill for an hour. (You can also freeze the dough at this stage and in a freezer, it will keep for up to a month.)
Slice the logs into 1 cm thick rounds and place these on baking sheets. Bake for 10-12 minutes. Remove from oven and cool on a wire rack.
I measured ingredients out in grams for my recipes and as I can vouch for those, that is what I am giving. I have omitted the imperial equivalent in both recipes as I noticed the 4 ounce equivalent is very inaccurate. Looking up conversion charts, I see the following:
1 oz = 25 g
2oz = 50 g
3oz = 75 g
4oz = 125 g
5 oz = 150 g
6 oz = 175 g
7 oz = 200 g
8 oz = 225 g
Just notice the big jump from 3-4 oz of 50 g
Surely we could be a bit more accurate than that?
I hope this doesn't inconvenience anyone working on those lovely old fashioned scales, although you can get metric weights for those too.