Sympathies to anyone who feels life is too short to bother reading this post.
This jumper should have been finished well before the one I blogged about 2 posts ago. I had raced through the back, front and sleeves with no trouble at all. I knew the inset collar would be more difficult but thought if I doggedly followed the instructions, all would be fine. Oh dear. Well, for a kick off, I couldn't even workout how to "with a circular needle … pick up and knit 36 stitches up the right side of the front  neck …" I had a go with a lot of  muttering "for goodness sake"  which was no good at all, did a bit of Googling (helpful about the circular needle), ranted at the vicar which was very cathartic but it advanced me not an iota … and eventually I just gave up and stowed the knitting away out of sight.
Loop's website suggested they had an SOS session on the second Sunday in the month. I rang and they said come in any time. Bless their warm palpitating human souls. So, last Friday I decided to dedicate the whole day to a Loop visit – that is after popping into Liberty (some lovely new Tana Lawns), Muji (where I was told my favourite photo albums had been discontinued) and Paperchase  (for their plain brown card lever arch files).  Sitting in a steam of evaporation (it was very wet and I no umbrella except those big unwieldy non foldable ones that drip everywhere) and looking like a bag lady, I collapsed on the very comfortable and well cushioned Ercol sofa feeling more than vaguely embarrassed as if an exam paper in a completely unknown language had been put in front of me. Fortunately an elegant swan-necked beauty gave me and my pattern full attention without a hint of condescension and got me going.
About an hour and a half later, having taken ages spacing out, picking up and knitting my 36 stitches up the neck, casting on along the back and then repeating what I'd done up the front down the other side (surprised that I didn't need to pick up every stitch that offered itself), I had the right number of stitches on the needle. Having caught her eye,  my ministering angel then broke off her shelf stacking, returned to me and explained the next conundrum thrown up by the pattern " knit … and then turn" (i.e. not knitting to the end of the row).  Ok, I think I got that, the turning mid row helps to shape the collar. More confident but with a concentration headache brewing, I was, however, delighted to be interrupted by a phone call from daughter No 1 inviting me up the road for  tea, carrot cake and a session with the Duplo.
Home and Monday, I set upon what I thought would be a short jog to FINISH the jumper.
But, even understanding  the turning mid row bit I find I don't understand how:
The second row you can knit rib [k1,p1] 45 – i.e. 90 stitches when you only have 78 stitches on that needle (and so on for each subsequent row).
Further how is it that:
The 10th row tells me to rib 69 times (138 stitches) when I only have 111 to begin with (and no suggestion of increasing)?
I include a photo of the page from the pattern. I am doing the second size (the first one in the bracket) just on the off chance that someone out there knows exactly what's required without having to spend too much of their time explaining it to me.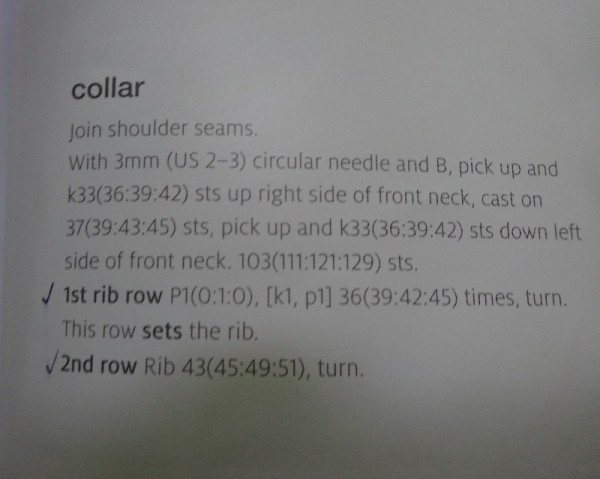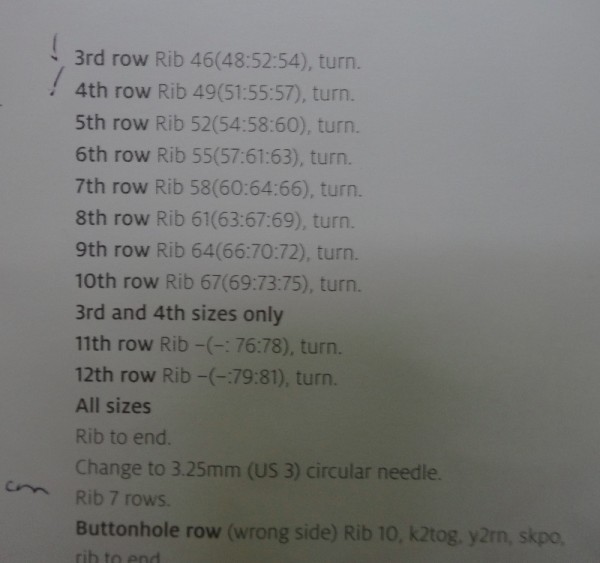 I can't visit Loop again until next week so if anyone is able to shed light on my ignorance I will be utterly overjoyed.
I have lost a bit of confidence in Debbie Bliss's patterns after seeing how many corrections there are to this book on her website, including one for this pattern. (I have, of course, lost the addendum sheet that came with the pattern book!) When finally I found an email address for the company I emailed them but received return mail saying it would take up to 21 days for them to answer. The jumper may not fit him then! I think it is such a lovely style with that neck caressing collar that I'm sure  it would become a favourite – if  only I can get it finished. I dread to think how many hours I've spent on this already.