I designed this monogram embroidery for my grandson a long time ago (he's now 4) but, wouldn't you know it, I ended up making an embroidery for his little sister first.  (which might be viewed as a bit of an insult as she's only 9 months old!).  After completing another long promised embroidery (the rhino, two posts back) I knew what I had to do.
I find monograms for little boys a bit tricky, so tend to go for colourful geometry or architectural themes. Flowers are definitely out (though you will glimpse a hint of Knossos in the lilies in the top corners, but they're stylised so they don't really count) and I'm not really a bunny or tractor sort of embroiderer. But who can argue with a nice classical temple – perhaps one to Athene so we can chat about the importance of being wise as opposed to clever. I thought of adding a ghostly owl (looming behind the initials) and even the exhortation 'Be wise' on the pediment. I then got very carried away and sketched one of the horse's heads from the Parthenon – you know, this one, so dramatic with open jaw caught in the act of neighing  and audaciously scultpted to come out towards the viewer, breaking the architectural line forming the base of the pediment as it does so – pretty splendid! (Do go to 'more views' on the British Museum link and look at the first full front view on the bottom line, the horse is just visible to the extreme right .) But then, whoooa, enough is enough. I reverted to the design as it first came to me.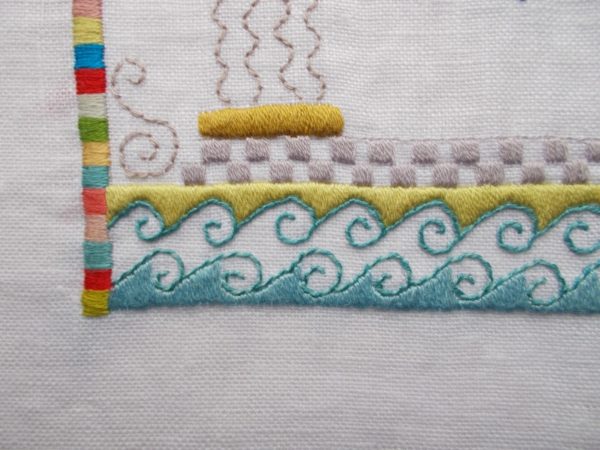 Lots of sewing means lots of sitting listening to BBC iPlayer. Most current fiction I delight in hearing rather than reading – rarely do I want to rush out and buy the book and at least while I'm listening I'm doing something productive with my needle. My latest novelist find is Josephine Tey. I picked a paperback of 'The Man in the Queue' (1929) in Cheltenham's wonderful Red Cross book shop and very much enjoyed the detective and the Richard Hannay's '39 Steps' style romp through the Scottish heather. On paper 'The Daughter of Time' (1951) on BBC iPlayer didn't sound up to much – a invalided detective lying bored in a hospital bed, mapping out the cracks on the  ceiling above his bed and thinking up nicknames for the (incredibly well educated) nurses who tend to him. But I stuck with it and found unfolding before me a thorough disquisition on the ins and outs of Richard III and the princes in the Tower. Wonderful. Brilliant. It was so good I kept having to listen to whole episodes again.I'm now totally convinced Richard didn't do it! Josephine Tey (a pseudonym naturally) was an elusive character. She wrote just a few books, lived very privately and often even kept her friends at arm's length, having to guess at what she was doing. John Gielgud, who regarded himself as a friend, was surprised to read of her death (from cancer of the liver) in The Times during a matinée of A Winter's Tale – he hadn't even known she was ill. If you want to be entertained and educated, do listen to it – sorry for those of you not in the UK who I don't think can avail yourselves of BBC's radio archive.