In spite, or possibly even because of our harsh winter and late spring, scented flowers of shrubs and small trees have been glorious this year. The other day on our walk to the shops, my husband and I played 'find the tree' as we passed by one scented garden after another, and subtle differences in perfume declared the presence of lilac, wisteria and quick growing clematis montana in glorious and not always exclusive succession. We are lucky, our next door neighbours have nurtured a wonderful mauve, double helix twisted stemmed wisteria whose flourishing  racemes of flowers generously hang over our side of the trellis as much as theirs. As the heat of the day dies down, the smell is beyond belief, as good as anything out of a stoppered bottle, and tinglingly life enhancing.
As it happens – and I started this knitting weeks ago – my latest garment makes use of predominantly mauve wool, and includes  colours in the range from mulberry and orchid to their palest relative. I looked through my books of Fair Isle and flicked through patterns from Pinterest until I had graph paper sketches of all sorts of motifs that looked like they'd be enjoyable to knit … and then I just set off with the needles and had fun. Surprisingly I undid very little, even after the early use of acid yellow which I only really came round to after I'd finished both back and font. With enough colours of yarn and repertoire of motifs, Fair Isle knitting is a heck of a lot more exciting than knitting inch upon inch of the same colour.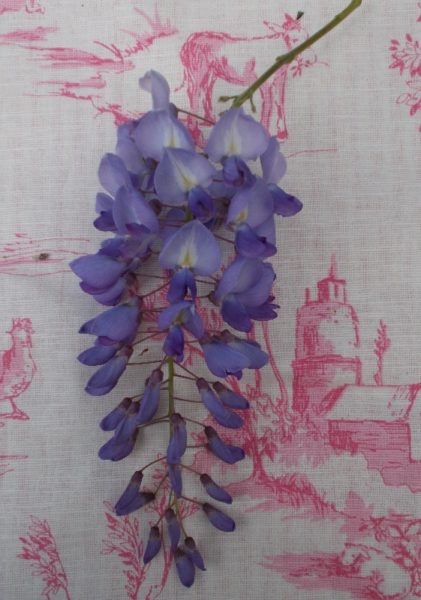 With mauve all around, I remembered that somewhere I had a copy of Simon Garfield's book of the same name. The book came out on the coat tails of Dava Sobel's 'Longitude' of 1995, a ground breaking book which made publishers realise that we rather enjoy the back stories behind such single issue subjects where serendipity, hard graft, vicious competition, a bit of blind fortune and a lot of musing over the human condition keep the reader a gripped as the best Ruth Rendell.
Simon Garfield's 'Mauve' tells the story of the accidental discovery of the first synthetic dye which could be mass produced in a factory. In  C19th India, many British suffered with malaria. Quinine was the only treatment available and even that was often in short supply. The chemist William Perkin  set out to synthesise artificial quinine from coal tar (aniline, a component of coal tar has a very similar chemical composition to quinine). Something went wrong in his experiment and the residue of muddy brown sludge which resulted turned out to produce a vibrant purple dye – a dye to match the illustrious Tyrian purple which for centuries had been produced from Mediterranean shell fish with much difficulty and at great expense. Garfield finds it ironic that the first successful artificial dye to be commercially manufactured and available to the masses should produce a colour so closely associated with imperial power and high birth.