A glorious week. The weather is still peak wonderful and our little garden is a joy.  Things planted only a week ago just keep on putting out flowers and washing dries on the line in no time at all. (My neighbour very sensibly has washed all her several sofa covers – and I should have too, butI have put that off till August, when we shall no doubt have wall to wall thunderstorms.) A fair weather football supporter (as a teenager I supported Nottingham Forest on a winning streak and even queued all night for a ticket when they got into an FA cup semi-final), I am enjoying (some of) the football – and revelling in the modest, thoughtful demeanour of Gareth Southgate, the England manager, whose penalty missing agony I remember so well in Euro '96.
Meanwhile, Wimbledon on the television forms a backdrop to sewing and knitting, as it has done since I used to rush home from school to catch up with sportsmen and woman whom I scarcely gave a thought to for the rest of the year! Many an English heart, if prodded gently, will reveal a Wimbledon soft spot – green grass courts with no advertising hoardings; the armed forces, crisp and smartly dressed, stewarding at the top of every staircase; players, glamorous in statutory white and – as this year – wonderful weather. I used to take the children to the tournament after school. In those days you could get in after 5pm for very little (was it nothing?) and then queue for returns for Centre Court and No One Court for £5 (which went to charity). We saw all sorts of fantastic play including Steffi Graf being knocked out by Lori McNeil in 1994 in her opening match! It was almost as much fun sitting on an outside court watching doubles matches with the setting sun as a backdrop. But now I'm older I find sitting in full sun for any length of time very trying, so for me the television is perfect.
But this week we have been out and about too. In 1974, my husband was instrumental in setting up The Holst Birthplace and Museum – a herculean effort on his part to ensure that the material Holst had bequeathed to Cheltenham should finally be on permanent display. Since my husband has returned to Cheltenham, it has become apparent that few remember exactly how the museum came about – or, like Chinese whispers, memories have got it all slightly wrong. On Monday, he put this right and gave a talk at the trust's AGM. He recalled how Imogen Holst, the composer's daughter had great enthusiasm for the venture, and was unstoppable in her energy, whether playing the piano in the house whenever she visited, conducting concerts in the town hall or roping in friends, like Peter Pears for recitals. A slide show had us all chuckling over well known local figures, including my husband who even on a grainy photograph taken from a newspaper was easily identifiable in a broad pin striped suit, long hair and bottle glass spectacles!
Museums can arouse mixed feelings. Sometimes they seem so static, even frozen in time with few signs of life apart from an enthusiastic volunteer, which though wonderful is not quite the same. With this in mind, the curator has been keen to bring live music back into the house and on Wednesday evening, she had invited Adam Heron, BBC Young Musician of the Year 2018 Keyboard Finalist, to the house to play on Holst's piano. Adam played Bach, Handel and Chopin, explaining afterwards how he had chosen a largely baroque programme because of the age and condition of the piano – a fine instrument by a distinguished British maker (though sadly one which is no longer in business). The trust has been told the piano should be played at least once a month –  how wonderful it would be for music to be made on a regular basis in Holst's house. There were just under twenty people around the piano on Wednesday and though a few more could be accommodated, it will only ever be an intimate experience. The curator has gone away to work on this.
So, I'm off to watch England v Sweden. Here are sample Fair Isle pieces I was trying out for a little polo shirt for my granddaughter – just to show my fingers have still. been busy. I really wanted to do a line of cornflowers along the polo shirt, especially after I caught sight of this band of similar flowers in a little book of bird motifs from Muhu Island (an island in the Baltic Sea belonging to Estonia) – see the first photograph immediately above this paragraph. However, once the design was transferred from graph paper to knitting I realised the motif was too big for a one year old's jumper, so I'll save the motif until later – maybe when she's about 8.
Five more painted lady butterflies have been successfully nurtured and released to the world – a a job so important that it has to be done in your pyjamas.  There's no time to get dressed, when the butterflies are ready to go! (I think the bottom picture should be viewed first, and then scroll upwards.)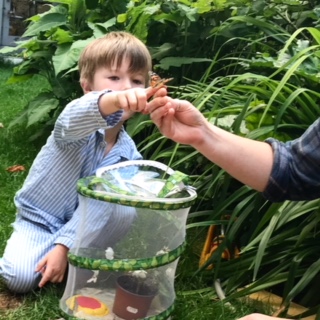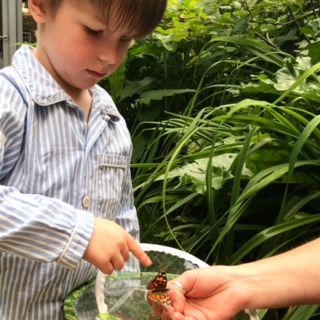 World Cup Football stop press: England 2 Sweden 0.