Despite having done lots of embroidery during lockdown, yet again a week has come and gone without me managing to post anything. Yes Covid-19 is to blame, as recklessly having promised to make and send the family in London 40 face masks (hoping 10 each would be enough!), I had to get on and actually make the things – especially now as from Monday 15 June they will be required to be worn on public transport in London. Rounding up the right sort of fabric proved to be a bit like hunting sheep strayed from pasture, delving into boxes on the tops of wardrobes, diving into a pine chest in the living room, and tossing over the contents of sundry chests of drawers around the house, including even a foray to see what I could find in the  garage. I could have done with a sheep dog. It will take a good few days to tidy up the trail of devastation left behind but 40 completed masks, which took much longer to make than I'd anticipated, are now in the post and on their way to London. Phew, job done. I should have photographed them, they looked quite pretty with contrasting linings and the last outing of one or two favourite fabrics.
I should, of course, have called them face coverings, not face masks!.
Meanwhile, interesting bits of information relevant to recent posts have crossed my path (threatening deviation from mask making) and these I can now share with you. To take things alphabetically:
T for Tortoise: Flicking through my old cuttings files, I discovered a article from The Times of 2017 about a giant tortoise called Jonathan who has attained the impressive age of 188. (He is still alive.)  Hatched in 1832, he lives at Plantation House, home to the governor on the South Atlantic island of St Helena and is thought to be the world's oldest living terrestrial animal. Arriving on the island in his 30s (a gift from the Seychelles)  he went through a difficult patch in his 80s (teenager years for tortoises?), becoming stroppy and surly, especially when visitors to his home wanted to play croquet on the lawn in front of the house (habitually he'd flatten hoops and overturn benches – though to be fair croquet brings out that sort of behaviour in people too.) In 1991, The French consul, the guardian of Longwood, Napoleon's last home in exile, presented the island's governor with Frederica as a mate for Jonathan and the two began a stable and loving relationship. Unfortunately, despite 26 years of weekly attempts at mating (Jonathan would routinely clamber over Frederica every Sunday morning) no little tortoises ensued … and then Frederica, when examined during a bout of ill health, was discovered to be male (probably). Jonathan also has another tortoise putatively female friend called Emily. Each governor dreads being the one in whose tenure Jonathan dies, and death is  an ever more imminent outcome as the average life span of giant tortoises is 150 years and Jonathan is already nearly 40 years beyond this. Jonathan has his own Wikipedia and Facebook pages.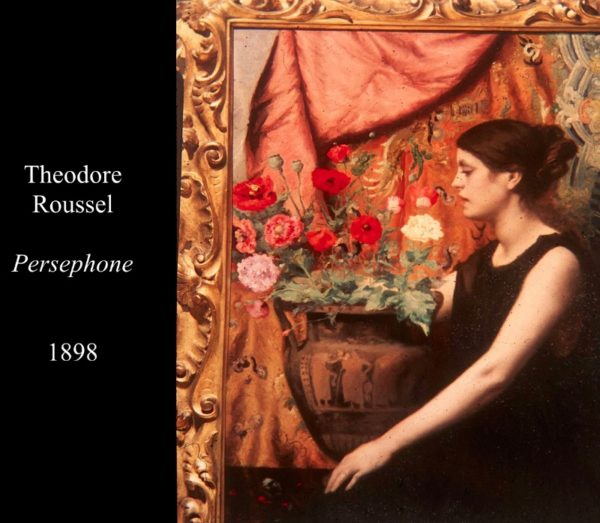 U forUrn: My mentioning and getting in touch with Patrick Hunt in last week's post has been fruitful in two ways. Firstly someone who reads my ramblings recognised in Patrick a family friend with whom they had lost touch – a click later and 30 plus years have dissolved into nothing.  Patrick remembers time spent with my reader's father, "We had great philosophical walks a la Izaak Walton in Marlow (Bucks) and sometimes played trilingual Scrabble (transliterated Classical Latin/Greek /Hebrew in ancient languages only) when regular Scrabble appeared less challenging. I think Tony usually won and I remember his delightful smile when he'd come up with a triple word play in multiple languages. " Gulp! But love being able to link up people who've lost contact.
Secondly, Patrick was kind enough to fill in the patchy mosaic my memory had made over the Persephone painting – and even send me an image of it (see above) the power of which I was affected by all over again – and which I of course realised he must have shown me at the time. Below is what he said in his email to me which I've very slightly rewritten -I particularly enjoy the many subtle meanings of the poppy which I had been shoehorning into a single interpretation, 
(Patrick) I've attached an imperfect image of the 1898 painting by Theodore Roussel and yes, it is apparently in private collection. It seemingly wasn't titled "Persephone" but was commissioned as a painting of a young woman whose premature death was thus symbolically commemorated. The iconography / iconology is clearly that of Persephone, wearing black for both her and her mother Demeter's mutual mourning at being separated and because Persephone is now in the Underworld, allegorically "deceased" because usually only the dead are there. Persephone is touching an Apulian funerary krater  with red poppies (Papaver rhoeas long associated with the dead),  the poppy calyx heads and other poppy like flowers.  The richly decorated silk background alludes to Hades/Pluto's wealth in the Underworld. The poppy was also Demeter's flower and you can see it on the sculpted friezes of the Telesterion at Eleusis in their Greek sanctuary (see above) because she was also the goddess of divine pain relief, apparently since at least the Late Bronze Age. 
"Mary, an addendum to the Roussel painting. One of the flowers in Roussel's Apulian funerary krater may well be a Papaver somniferum – the color may be off in my image but it could be purplish pink, sadly ambiguous because visually it could equally be a peony. Any identifying color is likewise faded away or decomposed from the open-faced poppies at Eleusis' (Greece) Demeter and Persephone Sanctuary relief on the Telesterion monumental sanctuary in the metopes. … Anyway, perhaps Roussel is being deliberately ambiguous with both poppy varieties and their intertwined symbolisms?"  
Thank you, Patrick.
This week is V for Vinca, or the periwinkle which I first blogged about here when I did a very crude one for the altar frontal (and which I would now do in long and short stitch to give  more shading … but such is life…). At first I was going to embroider V for Vanilla (see sketch below) but that looked too like O for orchid to which family it does actually belong. I was also tempted by V for  vetch because it's such a lowly little flower, more weed that cultivar and would make a nice filigree lace like image, quite different from other illustrations in my whitework alphabet.  V for violet was equally desirable and has the benefit of having a white form (lots around  Ipsden  Church)  but then in a flurry of battling indecision I just opted for the vinca.
I'm now off to appliqué 2 bags for the face masks – one to say CLEAN and one to say DIRTY – to hang in a prominent place in the hall of Daughter No 1's and the Son-in-law's house. Will they use them?
My son-in-law says, "what is striking is how a few weeks ago way more than half the people on the tube or bus were wearing one and it is now down to one in five, if that. Obviously that'll change on Monday because of the law but think it is a sign people are less scared than they were a few weeks back".