Stag beetles are one of nature's stunning lookers whose form I find I can sort of admire without ever wanting to come up close to. I'm further put off them on discovering that fancy mechanism on the head isn't decoration, or even a useful tool kit but a pair of  unusually large mandibles which, on a body up to 12 cm (c5 inches) are pretty impressive, both comparatively and absolutely. Even an average size stag beetle shapes up to 5cm/2 inches long and that's still lots bigger than I like my insects to be. Research assures me that the beetles are harmless and without a bite to match the size of their mouth parts – though in mating rituals I dare say unsuccessful males would have something to say about that. Further they are endangered and we should take care to conserve them – should I have a garden bigger than a pocket handkerchief I would gladly permit them a pile of gently rotting wood in the corner of the garden. Otherwise, I'm more than happy to appliqué one of the small person's T shirt.
I'm curious as to what we will make of this time when we have all been living in our own little worlds. An email from my granddaughter's other granny mentioned how little she will have seen of the littlest child (in particular) between 2 and 4 years of age – a time of such changes. Then daughter No 1 says how sad it is that friends with a baby of 7 – 8 months have been able to share so little of the child's early life with their parents.  Both of which are nothing compared to the people who have had to leave relatives to die alone. Still, these gaps in family togetherness, ever so slightly sad as they are, will I'm sure lead to joyous reunions of a very special and unique kind, to be written in florescent technicolour in memories and photo albums. It will be well worth waiting for.
For some time I've been thinking it a good idea to focus more on travelling in the mind for holidays, through reading rather than doing too much of the real thing, especially if it involves air travel and associated energy consumption. I would have liked to have taken my husband on just one trip to New York to go round the art galleries, but for a soon to be 84 year old I think the insurance may be too expensive. (Thank you to The Frick for the wonderful Cocktails with a Curator  during lockdown.) Perhaps later when Brexit complications have been ironed out, we might think about Amsterdam.
Meanwhile, I'm indulging in Italian crime – the literary sort, obviously, so I was delighted to see there is a new Donna Leon just out – almost unbelievably the 30th in the series built around the happily married family man, Commissario Guido Brunetti  who almost always manages to get home to eat a proper lunch with his feisty, aristocratic, food loving wife. (1 cook book and 30 crime novels, now that makes me very happy as I realise there must be books I haven't read – what fun.) Read these books with a map of Venice to hand to follow Brunetti in his investigations – fortunately Venice is so small and leaves such impressions, it isn't very difficult.  In this latest book Transient Desires, Brunetti considers the two two sides of tourism. ""For years we Venetians had wished the tourists to disappear and give us back our city. Well, we had our wish, and look at us now."  Leon, an American who lived in Venice for many years but who now I think lives in Switzerland, is very clear about the Italy she loves. The books don't shy from political corruption, incompetence, the labyrinthine bureaucracy. A new hospital is opened and only then is the lack of plumbing discovered (I think a true case.) I once knew someone teaching English in Italy whose job was taken off him because an Italian had more points in his favour. The case went to trial in Venice but the legal papers were dropped in a canal as the lawyer left the boat on his way to court and it all came to nothing. Trained teachers with brilliant academic records wait years for posts to come up. Then, in December of last year flooding hit Venice – despite the city having installed MOSE,  a system of retractable flood barriers. A problem with weather forecasting meant the system failed to operate.
"The country of Dante, Michelangelo, Leonardo, Galileo and Columbus, and 2,000 men competed for jobs as garbage men. O tempora , O mores …" .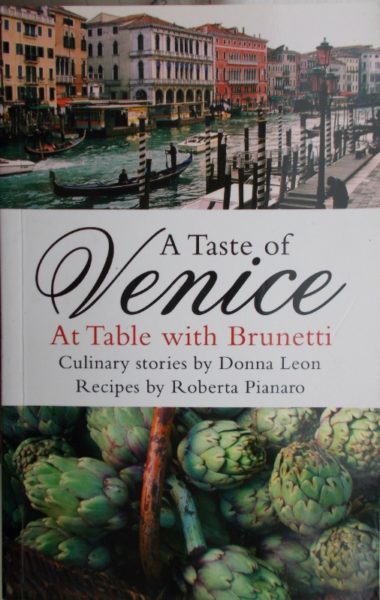 Crossing St Mark's Square, Brunetti, "ambled, delighting in the flags swirling about in the breeze, and the horses poised, front legs lifted delicately, gazing down the Piazza, as if pausing which way to go. How wonderful they were, even if only copies…"
All quotes from the book come from Mark Sanderson's review of Donna Leon's Transient Desires in The Times, 20 February 2021.