Beryl Dean designed and oversaw work on textiles for All Saints when she was already in her 70s. She'd not long retired from formal teaching but her enthusiasm and energy for the many projects she was still involved in showed no sign of abating let alone coming to a full stop. Letters to Joy and David are full of her writing in a rush as she's off to lecture in Northampton or Scotland and even once because she was in a bit of a hurry to catch a plane for a project in America (I'm "so frantically busy with a huge commission for a church in California"). Meanwhile at home, the Dean of St Paul's Cathedral was so keen to get her to do more for the institution in his care that he'd given her carte blanche to do whatever she wanted as long as it gave her pleasure. And into this whirl of activity, little known and previously little cared about All Saints Newland, financial warts and all, was added to the mix which probably caused her more distress and pain than all the other projects added together. And yet, I get the feeling that seeing the project work out  – and in the end even getting paid for it  – gave her considerable pleasure, not least the pleasure she felt on behalf of Joy and David that things had worked out for them too.  When finally David and Joy were able to write that the Kerr Bequest (from the last of the family associated with the local Tinplate Works) had returned – in almost its entirety – to the church's coffers, Beryl was so delighted "at the turn of events" that  "I'm sending a gift of £100 to be spent in any way you like, any way that might make things easier in any way – you need not tell me what you've used it for. I hope you will not be offended – I only mean it as a sort of thanks offering to you." World leading designer and wonderful human being aren't often joined in the one person so seamlessly.
Beryl's embroidery education culminated at The Royal School of Needlework which she left after 3 years with a teaching diploma (with the highest grade). Once qualified, she threw herself into multi tasking straightaway, not only teaching textile design but also opening a couture clothing studio where she designed  wedding dresses as well as  costumes for ballet companies.
In 1950 Beryl joined Watts and Co which to my mind sits slightly oddly with what I know looking back on her career. At the time, Watts were at the forefront of what was termed the "New Elizabethan" style which followed the Festival of Britain in 1951. (Watts' Keith Murray had designed the carpet for the Queen's coronation.)  Richard Hawker , Watts Creative Consultant, describes her as bringing "a panache and style which had been missing before" but he also relates the uneasy relationship between Beryl and Elizabeth Hoare, a great niece of one of Watts' founders. Like Beryl, Hoare (who also died in 2001 as Beryl did) had a "brilliant eye for colour and often a very cutting tongue". Upon being asked for her opinion on a hight altar front designed by Beryl, her scathing reply was "I don't comment on rubbish". Ouch!
By about 1952, Beryl had quite clearly decided that to its detriment the C20th had left scant mark on the little cul-de-sac of furnishing and clothing, where ecclesiastical embroidery had parked itself.  She felt the traditional, mainly Victorian designs had been dominant for too long and that it was time for something more contemporary. By 1955 she'd set up an Ecclesiastical Embroidery course at Hammersmith School of Art (where she was to teach for 20 years) while in the same decade she completed various commissions (Guildford & Chelmsford Cathedrals, King's Lynn Minster,  St Martin's, Dorking and St Giles in Northbrook, Illinois).  Not content with teaching, and all those practical projects, in 1958 she published her first book 'Ecclesiastical Embroidery' and undertook lectures on the subject in Britain and America. By 1968 she had included organising exhibitions to her overflowing portfolio. That year's exhibition of contemporary ecclesiastical embroidery in the crypt of St Paul's was to mark a high point for ecclesiastical embroiderers for after this all over the country little groups devoted to its study and practice were set up or reinvigorated; the revival of metal thread work was well under way.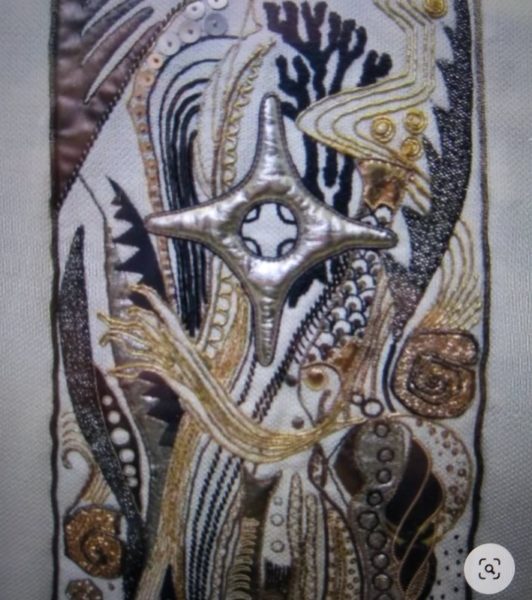 For me Beryl's uniqueness comes from that renaissance of the skills – both of design and stitchcraft – last seen in England centuries ago, from the late C12th to mid C14th, when Opus Anglicanum was the ne plus ultra for ecclesiastical furnishings throughout Europe. Like those skilled medieval embroiderers Beryl used lots of gold threads in their different weights and qualities. She also revived the slightly later and technically more demanding technique of or nué. (Or nué is a form of couched goldwork where couching threads in different colours give expression to the underlying design.) In form, her powerful and stylised embroidered figures have much about them of the Opus Anglicanum's  elegantly spare embroidered saints but with a hint of the spikiness of a C20th sensibility about them  (Picasso, Henry Moore). Do click on the embroideries for the Rutland Chantry, St George's Chapel, Windsor https://www.stgeorges-windsor.org/news/beryl-dean-panels/, the result of a five year task to create 5 embroidered panels. (Only one panel at a time is normally on display to the public.)  It says a lot about the nature of the woman that Beryl's 1984 embroidery "Head of Christ", now in the V & A in or nué was not for a commission but rather the result of her desire to do something with a few skeins of Japanese gold thread which she couldn't bear to store away unused!
Now back to Newland. I've mentioned in a previous post how Joy's initial overture to Beryl  asking whether she would be interested in the Newland restoration threw Beryl into a turmoil of conflicting emotions (letter of 24 April 1982). Nevertheless, and probably against her better judgment, Beryl's curiosity was piqued and she visited the church.  Just over 3 months later, on the 8th of August another letter landed on the vicarage doormat not only including 3 design ideas (unfortunately I can find no more than 1 sketch for the design which was chosen), a card with a selection of sample fabrics and threads for the surface decoration (see below) and the news that she had already contacted the Kilbrides who had agreed to weave a pure silk to the colour of the old glass in the East window.  Beryl quotes for providing a Festal set of chasuble, stole, burse & veil and a pulpit fall.  (The burse is the liturgical purse, a flat, square, fabric-covered case in which a folded corporal cloth and veil are kept. The veil is used to cover the elements of the mass until used by he priest.)
Impressively, all this set are completed by the following Easter. As Easter 1983 fell on 3 April, that's just under a year from commission!
The most important of this first tranche of textiles are the priest's vestments of chasuble and stole. The fine handwoven silk by Joanna Kilbride in the colour of the church's old glass is extensively decorated with hand embroidery and appliqué – both down front and back of the chasuble. The design is influenced by the forms of ferns and  grasses which sinuously curve their way down the garments in a cascade of metallic threads, braids and slivers of fine gold kid leather, flowing over and around pebbles and snails, their course avoiding little bubbles and pockets of air where fish  dart in and out of waterweeds.  I've come to think that Beryl was really very fond of the colour of old glass as when you look at photographs of her chasubles and copes, most of them are of a similar colour. I suppose not only is it a very good base shade for metallic threads but it also has an earthiness which grounds the decoration and precludes any feeling of bling which too much gold and glitter can evoke. This is as true of the cope she did for St Mark's Church Philadelphia as it is for her extraordinary Jubilee Cope (with its embroidered St Paul's Cathedral, 73 churches and  3 royal peculiars). And I can't help feeling the embroidery on the Enthronement Cope she made for Robert Runcie in 1980 would have been better served framed by old glass neutral rather than the metallic fabric that it was but perhaps that's just a matter of taste.
Newland's Festal set came with a large pulpit fall. "Rather surprisingly," Beryl Dean wrote in Embroidery (Vol 35 No 1 Spring 1984) "the Sanctuary (of All Saints, Newland) is dominated by hangings of beautiful black and gold brocade which are probably Victorian. My immediate reaction was to want to introduce something of similar richness into the nave; this resulted in the large pulpit fall inspired by the design of the brocade but carried out in the idiom of today." As with the chasuble, metallic threads, kid leather and metallic braids have been used. Because the pulpit is set quite a long way forward of the sanctuary, the larger than usual size for the pulpit fall works well.
August 1983 – when the crisis of the missing bequest was at its height – work was completed on both the Festal Set and the Lady Chapel furnishings. (The keeping of which latter was still in the balance, although David and Joy were at this point feeling they would be honour bound to pay for them themselves.) Beryl suggested her team come on a visit to Newland to view the finished furnishings in place. "What about a little party? I would contribute a donation." The team brought their own packed lunches while parishioners from one of David's other parishes (!) served coffee and then laid on a good tea for later in the afternoon. All went well and Beryl's next letter thanked Joy and David for all they had done and typically apologised for having taken up so much of their time when she knew David in particular had much to do. Everyone had enjoyed the day, hearing a bit about the history of the church and seeing their work in situ. The letter ends "I know that Wilfred (her husband) would join me in thanking you but he went to bed hours ago". Did this woman ever sleep?
Today Daughter No 3 sent me a screen shot of a Facebook page taken in  the V & A 's Costume Court. She wondered if I was in the background glimpsed through a display case. I told her it wasn't me but that I rather liked the look of the embroidered coat and suit (men's) on display. Was there any more detail? Not unexpectedly, she replied the the post didn't mention who had done the embroidery.
So, let us not forget the Newland emroiderers: The Festal Chasuble was embroidered by Pamela Waterworth and Jennie Miskin; the stole by Joan Carr and Winifred Petheram; the bursa by Sister Kathleen SSM and the veil by Adèle Fraser; the pulpit fall was worked by Rosemary Priestman
In 2012 Rowan Williams, then Archbishop of Canterbury visited the church to take a service and wore the vestments. Otherwise, I think they are little worn and languish in a glass case.