Medieval literature employs flowers and trees symbolically much more than we are used to today.  Marie de France, about whom we know very little, wrote 12-15 narrative poems (or lais) in a rather jaunty chatty style, inspired by the songs of Breton minstrels. One of these is called Chevrefoil. In English it is known as The honeysuckle and the hazel tree.
The poem tells a tale of Tristan and Iseult (referred to as the queen and never mentioned by name). This is not the same story as that on which Richard Wagner based his opera, whose origins can be traced back to a German contemporary of Marie's. Both writers tapped into the Tristan stories in general circulation in the late 12th century which were popularised by travelling minstrels.
The poem is not very long  and equally  short of variation of  mood for our post romantic sensibilities. The  lovers are self absorbed (so far, so Wagner – well so far, so any lovers) and unremittingly optimistic. A dark shadow, a hint of  looming tragedy  or a whiff of moral dilemma in the contemplation of recommenced adultery, might have raised the poem above a jolly rhyme, but, lacking such dimensions, it  becomes  merely a poetic curiosity.
But, back to honeysuckle…
The main conceit of the poem is that Tristan and the queen's forbidden love is likened to the  honeysuckle that twines around the hazel. Together they survive but should anyone try to pull them apart, both will die.  It is a charming image and surprising that it has not been used more often in literature.
Todays's gentler symbolism sees honeysuckle as the tie the binds with the bands of love and it is this attribute that led to honeysuckle being one of the many symbolic flowers on Kate and William's wedding cake. (If you look very hard you can see  a few individual trumpets peeping out from among the roses.)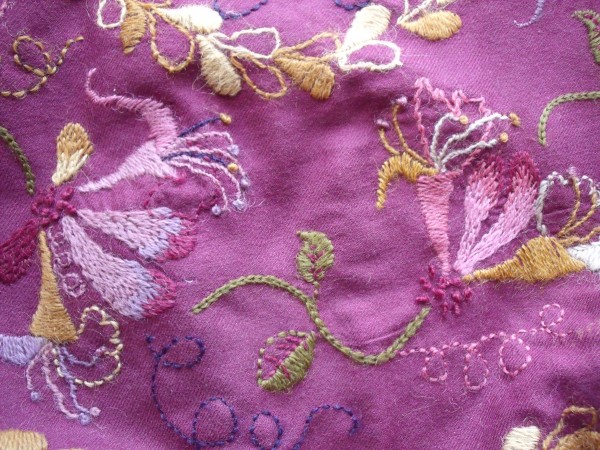 Peter Paul Reubens: The Honeysuckle Bower
The painter  Reubens celebrated marriage to his first wife Isabella Brant by painting them seated  together in a honeysuckle bower  (c.1609).  Both are dressed finely – and somewhat hotly  – if the full-flowerdness of the honeysuckle indicates high summer, except of course, it needn't because  symbolism transcends time and place. Isabella is wearing a velvet bolero style jacket over a finely embroidered bodice.  Busy,  fleshy nudes often come to mind in association with Reubens, so the gentle lyricism of this serene painting may come as something of a surprise. Many find it one of his best paintings. The fact that the marriage was happy and lasted for 15 years until Isabella died shouldn't make us like the painting more, but somehow it does.  (Reubens second marriage – to a 16 year old, when he was in his fifties – was also happy and lasted until his death.)
It is quite possible that the honeysuckle was painted by Jan Breughel the Elder, a renowned flower painter who often worked in Reubens studio
Interspersed throughout  this blog are photographs of a velvet bolero with embroidered sleeves in Viyella. Each sleeve has 6 different stems of honeysuckle, a selection of which are shown here. Stitches used include satin stitch, long and short stitch, backstitch, whipped stitch and french knots. The sleeves are very full which meant that the details were very difficult to photograph. It was never worn for a wedding.