We all have a soft spot for unicorns don't we and I have certainly been indulgent in embroidering them in any yawning blank piece of fabric which presented itself to me on this jacket. So far I have shown photographs of 6  unicorns but there is one more perching on the left shoulder antiphonal to the lion on the right shoulder.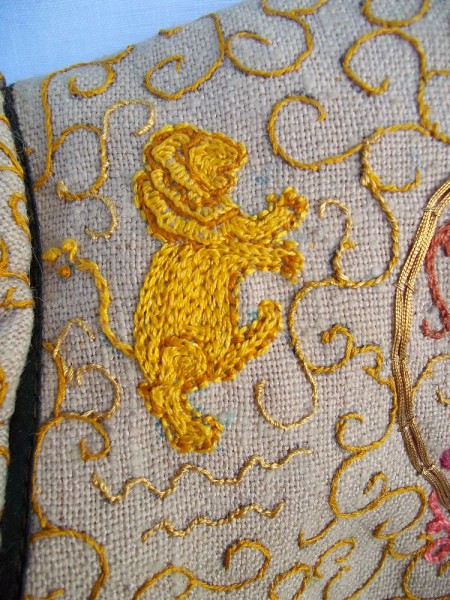 In writing about this jacket I have only now realised how apposite this lion and unicorn symbolism was. Previous posts have already shown the style of the garment's decoration went back into the heart of Elizabeth's reign but that some of the flowers were of Jacobean influence with their more fantastical and less naturalistic style. We know from looking at the dates museums give to such jackets and from the paintings in which they are proudly worm, that the jackets/bodices themselves were fashionable for 15 or so years either side of Elizabeth's death. What I hadn't appreciated was that the union of the lion and the unicorn came about symbolically in 1603 with the accession of King James I to the English throne.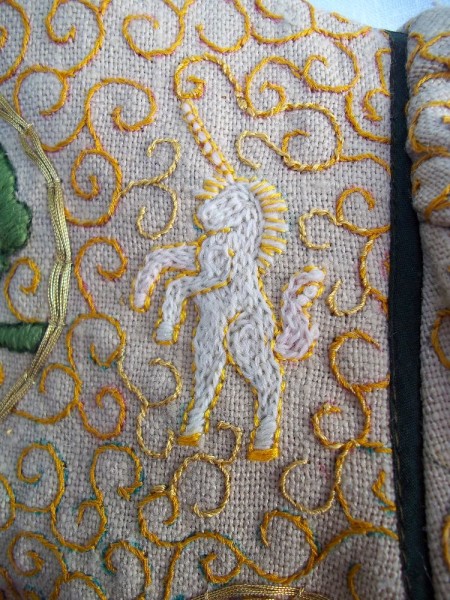 Two unicorns, one on each side, support the old Scottish Royal Arms.  From 1603 the royal coat-of-arms of the United Kingdom imported one unicorn to stand opposite the English lion as heraldic supporters. The Scottish version of the royal coat-of-arms shows the animals on different sides. I have never before noticed that the unicorn is chained. Should the Scots decide to break away from the UK, no doubt the unicorn will be removed from the coat-of-arms and a plethora of familiar signs and symbols will never look quite right to us again.