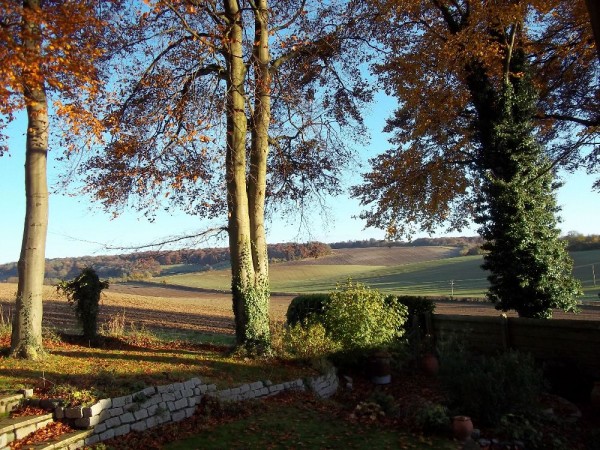 This season of plentiful rain, morning mists and dramatic slanting shadows of a low afternoon sun has tried my photography skills far beyond my capability. And it's not only me that is found wanting. The field you see above has not done well either for the oil seed rape that was growing in it has made poor progress. The earth has been turned over   and left to lie fallow until the spring. Last week birds, very aptly, had a field day. Big black flocks of rooks swarmed over one part, seagulls pock-marked another, while the glorious red kites appeared in waves of 30 or more, swooping low in familiar fashion but also, more unusually, landing on the earth and spending minutes at a time feeding on the morsels of protein revealed in the newly upturned soil. The red kites, like kittens, are great time stealers. Pause by a window, catch sight of the russet and white 5 foot of wingspan weaving across the sky and you see why native Americans, in awe of the splendour of such wonderful birds, wanted to deck themselves out similarly. Their behaviour has been very peculiar for they very rarely settle on the fields in such large numbers, preferring to do exhibition flying, the kite equivalent of the Farnborough Air Show.
But back to some embroidery. I finished these monograms a couple of weeks ago and have tried – on an almost daily basis – to photograph them. I've had a go at putting them on window sills, on the ironing board on its last notch on front of the window and on Heath Robinson arrangement of boxes on top of small tables which themselves are balanced on top of piles of books – almost anything to catch a bit of natural light. Any sign of a bit of sunlight during the daytime when I wasn't at work saw me shooting out into the garden armed with camera, cloths to cover wet tables and the embroidered panels. As you will see the results have been variable. White on white is very difficult.  The above were taken in the shade of an arbour on a board balanced between 2 director's chairs. They could do with a bit more contrast, but  it's 1am and we're off to Rome for a week in 4 hours time, so they will have to do.
The embroideries were made as wedding presents for 2 sisters, one of whom was married in June 2011 and the other in May 2012. Each has the initial of the husband's and wife's christian name entwined together.As I was late in delivering the first, I though I'd wait until both were finished, so I hope  they'll get them sometime before this Christmas, but as I say, we're off to Rome.
CB is entwined with honeysuckle
ED has rambling roses
I was going to make the embroidered monograms into cushions as I have done before, but I found these lovely oak box frames which had plenty of space between the glass and the embroidery and, as embroidered linen is not so easy to care for, thought framing would be better. I'm very pleased with the result, and so is daughter no 1 who has now asked for her wedding to be commemorated in this way. I must buy some more frames before they get discontinued.
Sorry for garbled prose, infelicitous phrasing and unnoticed spelling mistakes, but Rome is calling and I must respond.