People who love textiles need no urging to 'mend and make do' as we can't bear to throw away something which we originally bought or made because we thought it beautiful. I love a good bit of darning and my children need no urging to place ripped or worn pieces of clothing in need of repair in front of me. "I told them, my mum'll mend that," is often said, as a much-loved garment is placed in front of me, with a "you will, won't you?" thrown in as a slightly panicky afterthought. However, I've failed with a few things and these are usually fine silk dresses where the manufacturer has left too little in the seam allowance and the seams have frayed apart – even then I've got my eye on using the fabric from the turn up of the hem and inserting into the problem seam, which I will do when I have time. (Sometimes, of course, there's no spare material in the hem, which is a bit maddening as these are not cheap clothes.)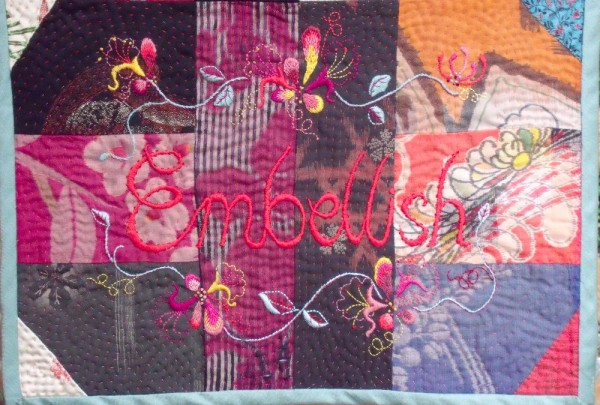 However, I'm really an embellisher.  This hanging is a repair job. Years ago I bought 2 patchwork tablemats in a Whistles' sale. Made from bits of Japanese kimono silk, they were far too beautiful to be surrendered to the spilt soup, gravy and wine of the dinner table, so I made them into cushions for my bed where I they would be looked at more than leaned on and meet no real wear and tear.  Except of course they did get worn – the corners were the first to get thin and before anything more dramatic happened I decided that the only thing to do was to  consider them as purely decorative textiles, join them together, add embroidery and quilting and enjoy  looking at the resulting piece hanging on a wall.  Eventually I shall go one step further and have it framed .
Rome and going about without a coat seems a long way away now, especially with the floods in Oxford which have completely closed the Abingdon Road, the route taken by my bus into and out of Oxford. Rerouting led to journeys taking up to 2 hours in the morning and waiting for up to an hour before a bus appeared in the afternoon. Standing in front of Christopher Wren's Tom Tower, the main entrance to Christ Church  is probably not the worst place in the world to wait for a bus – even one that doesn't come – but the wind really rips through the open gateway, in all probability  channelled straight from Siberia (the orientation is right). I say all this because this is one reason why I have yet to go through our photographs of Rome and select the images I want to use. This weekend has brought no rain, some bright low sun but also there has been a drop in temperature. We hope the flood waters will have receded before the freeze began and that people can return to their homes and functioning drains.