A friend saw the rose cardigan I embroidered last year and asked me to do one for her to give as a present to little girl called Rose. Although she gave me the cardigan a few weeks ago, being occupied with other things – and just a dash of procrastination – meant that I only began embroidering it on Thursday with a deadline of this morning. There were some scary moments when I panicked because a rose looked more like a mess of tangled intestines and a bit of unpicking was necessary, but I finished yesterday and was even able to prepare my bag for work (checking for bus ticket, library card, library keys, etc) which I never usually have time for. Hurray.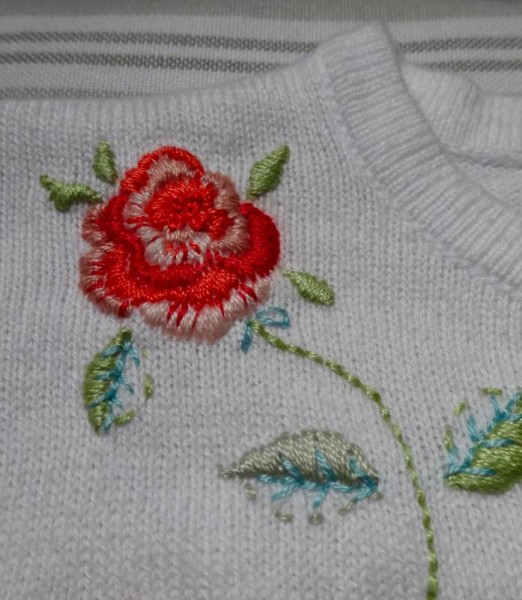 I've never found a successful way of transferring a design on to white knitted cotton, so it seems to me that the only thing to do is to launch straight in and start embroidering directly onto the fabric (with a vague plan, a bit of intuition and a lot of nervous confidence – if the latter's not a contradiction).  Starting from the middle of the flower, I move outwards. Free sewing like this can be rather a roller coaster activity in a gentle sort of way – a badly made petal in the wrong place can convert what is recognisably floral into something looking more like a cartoon monkey (or mangled intestines), in which case the only thing to do  is unpick until the recognisably floral reappears. (I'm always relieved if my flowers end up resembling roses because it's very easy for them to topple over in the direction of peonies. But then again for many years I thought all those beautiful Chinese peonies were roses designed by an over exuberant imagination, so what do I know.)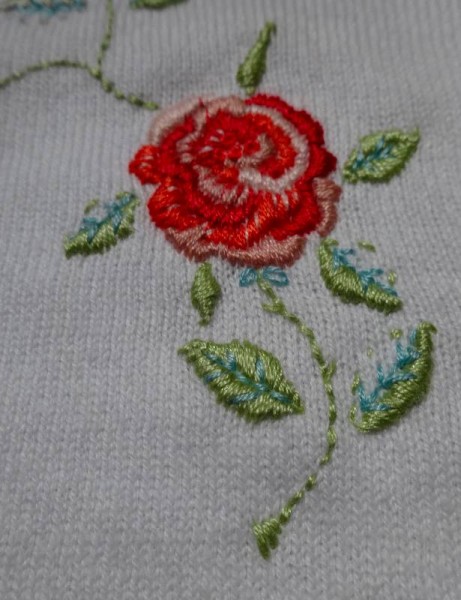 I was quite pleased that in the end a couple of my roses rather gloriously resemble Centifolia, i.e. what gardeners call a cabbage rose. Luscious plumpness  of this sort also brings to mind the rose most loved by C17th Dutch still life painters, so it is scarcely a surprise to learn that when John Gerard, horticulturalist and herbalist, introduced the flower into Britain in his Herbal of 1597, he called it Rosa Hollandica. 
An apocryphal story suggests that the Dutch invented flower painting in Antwerp in around 1650 because painted flowers were cheaper than the real thing, leading a flower lover to approach Jan Breughel for painted blooms instead. That German painters were painting flowers 50 years before the Dutch genre blossomed puts the lid firmly on this as a true story. But what is certain is that at this time the Dutch excelled in their flower painting.
The earliest portrait of a Centifolia  rose dates to 1600-04, in an album of 22 watercolours on vellum by Jacques de Gheyn. His approach was that of the botanical artist clearly showing the individual flower's distinguishing traits. Some, like the British Ambassador to the Hague at the time, Sir Dudley Carleton, found this a static talent, being too precise and lacking "morbidezza" (a sculptural softness and delicacy).
Jan Breughel (youngest son of Pieter Breughel the Elder, well-known for his peasant scenes) had morbidezza by the bucket full and his talent met with the full approval of Sir Dudley. (Interestingly Jan, surrounded by all that masculine artistic success,  was taught to draw by his grandmother.) His nickname 'Velvet' referred equally to the velvet quality of the petals he painted as to the deep piled luxury fabric he loved to wear. Roses were his favourite flowers and he enjoyed painting them from life while many other artists had a portfolio of studies which they used to make into a composition of diverse flowers never naturally blooming at the same time. So important was painting from nature for Jan that, in 1606 he wrote to his patron, Cardinal Federico Borromeo, to say that he would have to put the painting the latter had commissioned to one side until the next growing season as the garland he was using was wilting and fading. One hoped the Cardinal was a patient man.
The roses are embroidered in 3 strands of stranded embroidery cotton, using 2 reds and 2 pinks; the leaves are done in 2 shades of green, with the veins picked out in pale turquoise. (The flowers are more than twice as big as those I did in the earlier cardigan.) The main stitches used are satin stitch, for the petals, back stitch for the stems  and there are a few single lazy daisy stitches.  God bless the creator of 'Stitch n' Tear' for giving at least a modicum of stability when stable is the last thing you're feeling sewing on bouncy knitted fabric.