A very rapid post today as serious logistical work is underway to get Daughter No 1's house habitable after the builders have finished – well I use the word finished in a very loose sense and in a spirit more of hope than pure factual description. Two floors are ok but another 2 floors are full of the furniture and furnishings that didn't get put into store (they probably should have – as we all think now with glorious l'esprit de l'escalier). Baby due 28 March (oops 28 April in fact!) but as all mine were 2 weeks late and as the small person was too, we're hoping this one will be as well.
Here is a little pink I embroidered some time ago for the altar frontal and for text I refer you to my musings on the flower in my post on my Elizabethan jacket.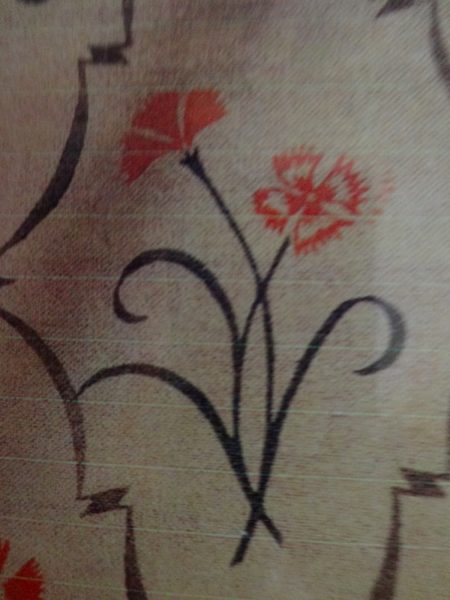 I was inspired by this Arts and Craft design for wallpaper in my scrapbook but as I can't at the moment put my finger on the page in my 20 odd volumes of scrap books, I'll add details of it authorship, etc as soon as I can. I'll also put a better photograph of it on the blog as I must have just seemed interested in the flower and took no care for the rather elegant little cartouche it sits in.
Thank goodness the weather is beautiful.