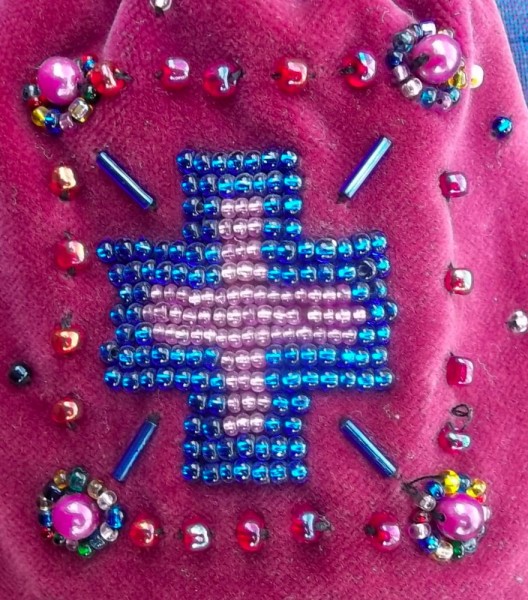 This is just going to be a short post as I have lots of embroidery to do and I shall be working full time during the coming week. 
From time to time I make these bags when I have a bit of velvet or silk left over from making something else. I would love to embroider a jacket with heavily ornate crosses, beaded medallions and curlicues but feel the resulting garment would be more suited to the life of a Renaissance princess than that of a vicar's wife. Pity. The black velvet sleeve shown below must be part of a wonderful jacket if the part we can see is anything to go by. I love the big misshapen pearls massed together to form the body of the cross,  the deep colours of the Venetian glass beads  and the crudely couched gold cord – all so enticingly handmade and charmingly wonky. 
Below is a necklace I made for a friend. Over the years I have accumulated semi-precious stones from visits to junk shops, Portobello Road and, for new stones, the Bead Shop in Covent Garden. Once I  was even given a dirty old string of grubby coral which had enough individual bits,  with the addition of a few faceted amethyst beads, to make 2 longish necklaces.  Soft velvet bags are ideal for carrying necklaces when I go away.