High on ambition but short of time, meant that this week I produced a simple biscuit with a soft base, little nuggets of white, dark chocolate, the odd soft squidge of marzipan and a marzipan bauble topping.
Ingredients
200g/7 oz softened butter
200g/ 7 oz golden caster sugar
1/2 tsp vanilla extract
1 large egg
225 g/8oz plain flour
tiny pinch of salt
1 small tsp bicarbonate of soda
115g/4 oz white chocolate chipped
115 g/4oz dark chocolate chipped
115 g/4oz marzipan cut into little cubes (similar size to choc chips)
Preheat oven to 180 degrees C/160 degrees C for fan oven/350 degrees F/ Gas Mark 4
Grease a couple of large baking sheets (I make small biscuits so I used 2 large sheets baked in 2 batches and then I had to reuse one of these again, making 3 bakings in all).
Cream butter, sugar and vanilla extract in a large bowl. Gradually add the egg and beat until the mixture becomes light in colour and fluffy in texture. Sift the dry ingredients (flour, salt, bicarbonate of soda) into the mixture and fold to incorporate. Fold in the chocolate chips and about half of the marzipan pieces. (You could add all the marzipan bits but I rolled these into little balls and saved them to top the biscuits.)
Pick up good teaspoonfuls of the mixture, lightly roll them in your hands and place on baking tray. Plomp the marzipan on top and gently flatten the whole thing.
Bake for 10-15 mins until crisp outwardly but soft within.
Cool for a couple of minutes on the baking sheet and when beginning to firm up transfer to a wire rack.
Churches mark Good Friday in different ways. The priest here before my husband used to organise a walk between the two churches, celebrating the stations of the cross as they went. My husband sets up his projector (once with slides, now much more smoothly and with clearer images with his laptop) and we alternate listening to passages from the gospels with looking at images of relevant paintings, 3 or 4 for each passage which helps focus the mind on considering the Easter story.
This Good Friday our time of quiet meditation was interrupted by reminders from other parts of the animal kingdom that their own hold on life was perilous, especially when confronted by the vagaries of British weather. Out of nowhere 2 butterflies (1 Peacock and one either a small tortoiseshell or a possibly a Red Admiral) had appeared and were wearily working their way from the bottom to the top of the window, presumably in an attempt to find a way out.  Once at the top they would drop down and begin the ascent again. Another Peacock had already exhausted itself and lay flat on the stone ledge. I picked it up and placed it in a little pool of sunlight; it twitched for a moment but then lay completely still. Meanwhile another tortoiseshell had appeared and was joining in the ascent.
A hour later a couple of the butterflies had quietened down and seemed happy on a sunny bit of the stone mullion. We encouraged the bee keeper Church Warden to remove the wasp that had now appeared but agreed it was probably better to leave the butterflies inside the church where there was at least some warmth and quite a lot of fresh flowers and accessible water.
On Sunday there were still at least 2 visible butterflies in the church and one, in full flight, seemed happy and full of energy. Consulting Patrick Barkham's book The Butterfly  Isles (Granta, 2010) I learned that,
"A small, robust elite of British butterflies – the Small Tortoiseshell, Comma, Peacock, Red Admiral and Brimstone – spend the winter hibernating as adults. These butterflies have jagged edges to their wings or cunning brown patterns on their underwings so that when they are hibernating with their wings shut tight they look just like dead leaves."
Perhaps they will survive.
Easter Day saw a turnout of 30-40 people at each of the two Easter Eucharists. Fine, dry and sunny, it was as lovely a day as could be wished for, indeed conditions were optimal for the appearance of rather shy and not often seen visitors. The soil of this little corner of England has nurtured many wonderful things that signal to us the coming of spring but there is none so reliable as the appearance of the two tone shoe. And on this beautiful Easter Sunday in early April church goers were lucky enough to spot not one but two pairs!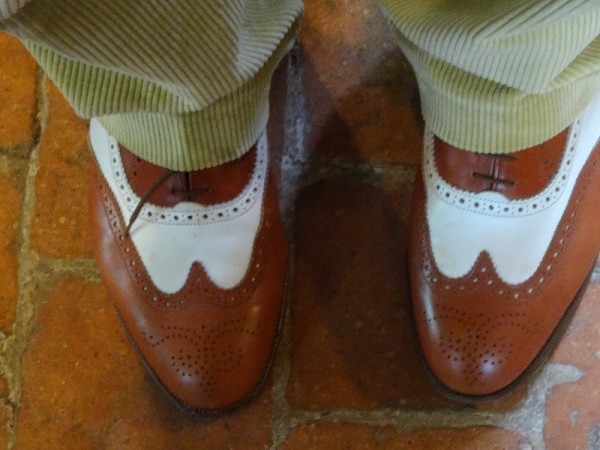 These shoes were named the Spectator Shoe (to be worn watching cricket, etc.) by John Lobb of London, although British people are more likely to call them the Co-respondent Shoe owing to their historical association with the cad and especially with the sort of cad only too happy (i.e. paid) to be the third party – or co-respondent – in a divorce case. As our parishioners are faithful husbands who just happen to like a rather wonderful example of British craftsmanship I shall say no more about the intricacies of  British divorce law.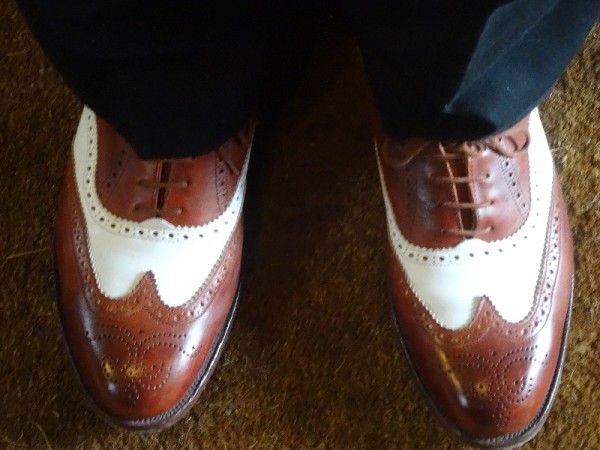 Meanwhile, our Easter visitors have left, the towels and half the bed linen is washed, the floor is still strewn with children's books and bits of toys and the carpet is dotted with shedded cat fur … BUT it is still sunny with no wind to speak of so all is peaceful and happy in the vicarage. A time for gentle exhalation.