On Wednesday, the vicar gave an afternoon talk in the Ashmolean Museum in Oxford. These talks are very good not only in terms of intellectual content but also because they do a rather good half-time tea (choice of various teas or very good proper coffee and big slabs of lemon drizzle cake) which is just what's needed if you've spent the earlier part of the day haring round the shops picking up all those irritating things not to be found locally (tracing paper/Parker ball point pen refills/Paperchase loose leaves for their brown paper files/industrial cat bell for the new flea collar, etc.).
Quite drowsy as the bus home neared Wallingford I was suddenly roused to meerkat alertness by the unexpected sight of a fully blooming wisteria almost completely covering a double fronted cottage in Crowmarsh Gifford – a sight I wasn't expecting for another 2-3 weeks, at least. Now I am very partial to a wisteria and this year I have been on particular alert for their flowering so that I could blog a wisteria embroidered coat from last year along with the real thing.
Full of enthusiasm when home I tapped away on my lap top, rattling out brief explanations of wisteria symbolism in The Tale of Genji (see here for previous mention of the book), praising Enchanted April which begins with an advert promising "wistaria (sic) and  sunshine " (the film of which is – dare I say it – better even than the book), etc., etc. Having pretty much finished the text I went off to find the photos I took last August of daughter No 2 wearing the wisteria embroidered coat I made for daughter No 1 (it's so hard to have the right daughter, the specific bit of clothing, me and the camera all available in the one place at the same time…)  But … woe, woe, woe … no photos to be found anywhere … Well, at least I have now discovered which photos I lost when last year I did my bungled transference of photos to the external hard drive. So, no wisteria coat for the time being.
Returning to plan A, I continued with my second SV monogram. You may remember, a  couple of weeks ago, I did a brightly coloured stripey SV (Christian name and surname) for one person and I enjoyed the letters so much (especially the S which is a truly great initial) that I promoted another SV up my to do list. This one is for a wedding anniversary in July and obviously consists of 2 initials for two people. I've placed the initials slightly differently from before. I also wanted something elegant and timeless and to this end settled on a background of two branches of bay leaves bound together – a design inspired by inlaid woodwork found in the choir of S. Maria in Organo, Verona (se below). As we all know, the leaves of the bay laurel remain evergreen and never decay and when such symbolism is applied to a couple's love for each other it must be just about one of the nicest wishes you could make.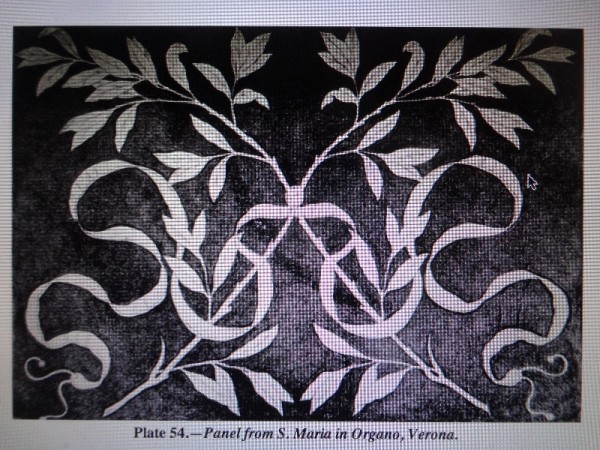 Note to self: I used Anchor No 2 Stranded Mouliné which I really like as it appears very creamily pearl like on white linen – the photographs don't capture the shade at all. Must order more.